Posts for tag: dental injuries
By Scott A. Leggio, DMD
October 02, 2021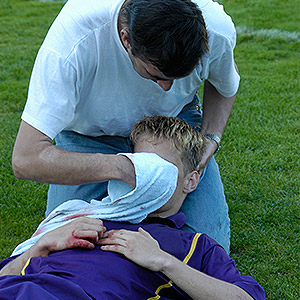 Although kids are resilient, they're not indestructible. They're prone to their share of injuries, both major and minor—including dental injuries.
It's common for physically active children to suffer injuries to their mouth, teeth and gums. With a little know-how, however, you can reduce their suffering and minimize any consequences to their long-term oral health.
Here are 4 types of dental injuries, and what to do if they occur.
Chipped tooth. Trauma or simply biting down on something hard can result in part of the tooth breaking off, while the rest of it remains intact. If this happens, try to retrieve and save the chipped pieces—a dentist may be able to re-bond them to the tooth. Even if you can't collect the chipped pieces, you should still see your dentist for a full examination of the tooth for any underlying injury.
Cracked tooth. A child can experience intense pain or an inability to bite or close their teeth normally if a tooth is cracked (fractured), First, call the dentist to see if you need to come in immediately or wait a day. You can also give the child something appropriate to their age for pain and to help them sleep if you're advised to wait overnight.
Displaced tooth. If a child's tooth appears loose, out of place or pushed deeper into the jaw after an accident, you should definitely see a dentist as soon as possible—all of these indicate a serious dental injury. If they're unavailable or it's after hours, your dentist may tell you to visit an emergency room for initial treatment.
Knocked-out tooth. Minutes count when a tooth is knocked completely out. Quickly locate the tooth and, holding it only by the crown and not the root, rinse off any debris with clean water. Place it in a glass of milk or attempt to place it back into the socket. If you attempt to place it back into the socket, it will require pressure to seat the tooth into position. You should then see a dentist or ER immediately.
A dental injury can be stressful for both you and your child. But following these common-sense guidelines can help you keep your wits and ensure your child gets the care they need.
If you would like more information on pediatric dental treatment, please contact us or schedule an appointment for a consultation.
By Scott A. Leggio, DMD
April 10, 2020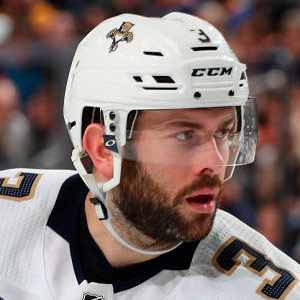 Professional Hockey player Keith Yandle is the current NHL "iron man"—that is, he has earned the distinction of playing in the most consecutive games. On November 23, Yandle was in the first period of his 820th consecutive game when a flying puck knocked out or broke nine of his front teeth. He returned third period to play the rest of the game, reinforcing hockey players' reputation for toughness. Since talking was uncomfortable, he texted sportswriter George Richards the following day: "Skating around with exposed roots in your mouth is not the best."
We agree with Yandle wholeheartedly. What we don't agree with is waiting even one day to seek treatment after serious dental trauma. It was only on the following day that Yandle went to the dentist. And after not missing a game in over 10 years, Yandle wasn't going to let a hiccup like losing, breaking or cracking nearly a third of his teeth interfere with his iron man streak. He was back on the ice later that day to play his 821st game.
As dentists, we don't award points for toughing it out. If anything, we give points for saving teeth—and that means getting to the dentist as soon as possible after suffering dental trauma and following these tips:
If a tooth is knocked loose or pushed deeper into the socket, don't force the tooth back into position.
If you crack a tooth, rinse your mouth but don't wiggle the tooth or bite down on it.
If you chip or break a tooth, save the tooth fragment and store it in milk or saliva. You can keep it against the inside of your cheek (not recommend for small children who are at greater risk of swallowing the tooth).
If the entire tooth comes out, pick up the tooth without touching the root end. Gently rinse it off and store it in milk or saliva. You can try to push the tooth back into the socket yourself, but many people feel uneasy about doing this. The important thing is to not let the tooth dry out and to contact us immediately. Go to the hospital if you cannot get to the dental office.
Although keeping natural teeth for life is our goal, sometimes the unexpected happens. If a tooth cannot be saved after injury or if a damaged tooth must be extracted, there are excellent tooth replacement options available. With today's advanced dental implant technology, it is possible to have replacement teeth that are indistinguishable from your natural teeth—in terms of both look and function.
And always wear a mouthguard when playing contact sports! A custom mouthguard absorbs some of the forces of impact to help protect you against severe dental injury.
If you would like more information about how to protect against or treat dental trauma or about replacing teeth with dental implants, please contact us or schedule a consultation. To learn more, read the Dear Doctor magazine articles "Dental Implants: A Tooth-Replacement Method That Rarely Fails" and "The Field-Side Guide to Dental Injuries."
By Barry E. Bennett, DMD & Scott A. Leggio, DMD
August 15, 2014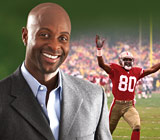 According to NFL football legend Jerry Rice, "Football can be brutal—injuries, including those to the face and mouth, are a common risk for any player." And if anyone should know, it would be Jerry.
During an interview with Dear Doctor magazine, the retired NFL pro discussed his good fortune to have had just a few minor dental injuries during his pro playing days. He credits this success to the trainers and protective equipment professional football teams have to keep the players off the injured list. However, this was not the case during his earlier years in football. "There wasn't a lot of focus on protecting your teeth in high school," he said. "You had to buy your own mouthguard." He continued, "Things changed, though, when I went to college."
Unfortunately, not much has changed since Jerry's high school days for young athletes. This is why we feel it is so important that parents and caregivers understand the risks and take proactive steps towards protecting the teeth, gums, bone and soft tissues of their children with a mouthguard. This is especially true for anyone — adults included — participating in high-contact sports such as basketball, baseball, hockey (field and ice), football, soccer, wrestling, martial arts, boxing and activities such as skateboarding, in-line skating and skydiving.
But all mouthguards are not the same. The best mouthguard, based upon evidence-based research, is one that is custom-designed and made by a dental professional, with the athlete's individual needs taken into account.
We make our custom mouthguards from precise and exact molds of your teeth, and we use resilient and tear-resistant materials. Once completed, it should be comfortable yet fit snugly so that you are able to talk and breathe easily with it in place. It should also be odorless, tasteless, not bulky and have excellent retention, fit and sufficient thickness in critical areas.
And while mouthguards may seem indestructible, they do require proper care. You should clean it before and after each use with a toothbrush and toothpaste, transport and store the mouthguard in a sturdy container that has vents, make sure not to leave it in the sun or in hot water and rinse it with cold, soapy water or mouthwash after each use. And last but not least, you should periodically check it for wear and tear so that you will know when replacement is needed.
To learn more about mouthguards, continue reading the Dear Doctor magazine article "Athletic Mouthguards." Or you can contact us today to schedule an appointment so that we can conduct a thorough examination and make molds of your teeth for your custom mouthguard. And if you want to read the entire feature article on Jerry Rice continue reading "Jerry Rice — An Unbelievable Rise To NFL Stardom."